Sometimes no matter how many songs you have around, you just can't seem to find the right one. Finding the perfect track for your content is no easy task, this is why we offer the option to create custom music for your videos. These are some of the benefits of our Business Subscription, so if you are interested in making a purchase check out what else is included.
What are custom tracks?
In other words, custom songs are created from scratch just for you, based on references you send to us. Basically, if you want to make your own kind of music, we can help you out. Good thing is that with music almost everything is possible, so let your imagination flow. We are sure we will be able to deliver it.
How do custom requests work?
No matter if you are an individual creator or a business looking for custom music, we can help you out. You first need to contact us at support@hooksounds.com telling us more about what you are looking for (references are very welcomed!). Through a personalized exchange with one of our team members, we will try to get an idea of what would be the perfect track for you.
We will then give all the info you send us to one of our musicians, so he or she can produce the track. We will send it to you once it's done and of course, if you want any changes they can be done.
How do we create music?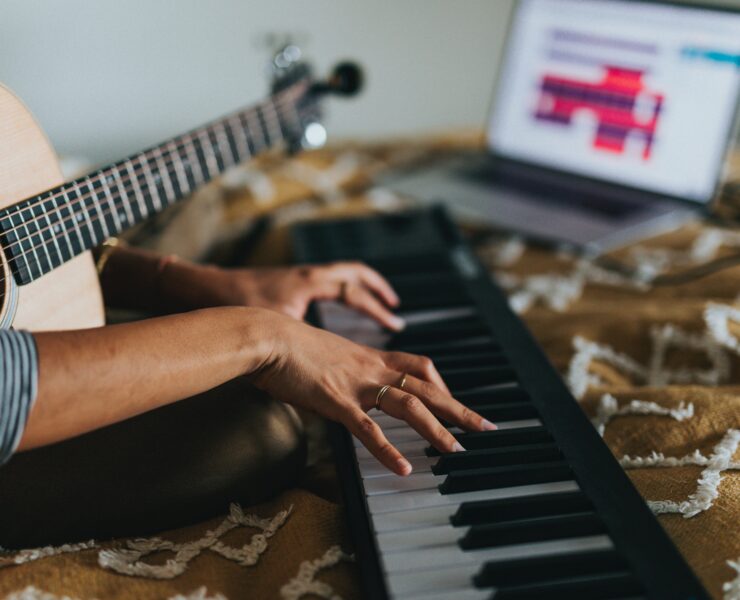 We won't explain how to make music step by step, because, well, that's pretty complex. As you may know, at HookSounds we work with in-house musicians who are constantly producing new tracks as well as custom requests from our users. It all starts with an idea or a certain inspiration, and after is all a matter of creativity. We like our tracks to be as humanly-made as possible but a little help from technology never hurt anybody, especially when it comes to editing.
Once the track is done, it goes through a process of curating, as we only want to deliver the best music for you guys. So if it doesn't reach our standards, it won't probably go online. This is how we maintain a high standard when it comes to music, always prioritizing its originality and quality.
How long does it take to produce a custom song?
Our main goal is that you are happy with the final result, even if it takes weeks of back and forth emails to create the perfect track. We will try to have the end product as fast as possible, but of course, it all depends on the complexity of the track you need.
Are custom tracks royalty free?
If we produce them, then they are! At HookSounds we only make royalty free music, so once you've received the track, you will be able to use it without getting any copyright claims. Remember though, that royalty free doesn't mean it's copyright free, so even if you are paying the royalties, aka the rights to use the track, you are not the owner of the track.
Since custom requests are available for Business Subscriptions, you will also have all the benefits from this type of license, which includes YouTube monetization, commercial use, high-quality WAV files, loops, in-store music and multiple accounts covered. You will also be able to use the music for content created for third parties as well as for streaming. This license covers YouTube, Twitch, Instagram, Facebook, Vimeo, and more.