Sound effects are a great way to easily make your videos more professional and engage your audience in a more emotional sense. If you are doing a movie, documentary, or music video, SFX (that's short for sound effects) will be your best friend as they will help you to set the mood in many scenes.
Beyond this, they are becoming extremely popular among YouTubers, who are going for this resource as a way to make their videos more entertaining. Whether it is a banging noise, a news broadcast announcement or any kind of sound effect you may think of, SFX are the new go-to audio resource these days.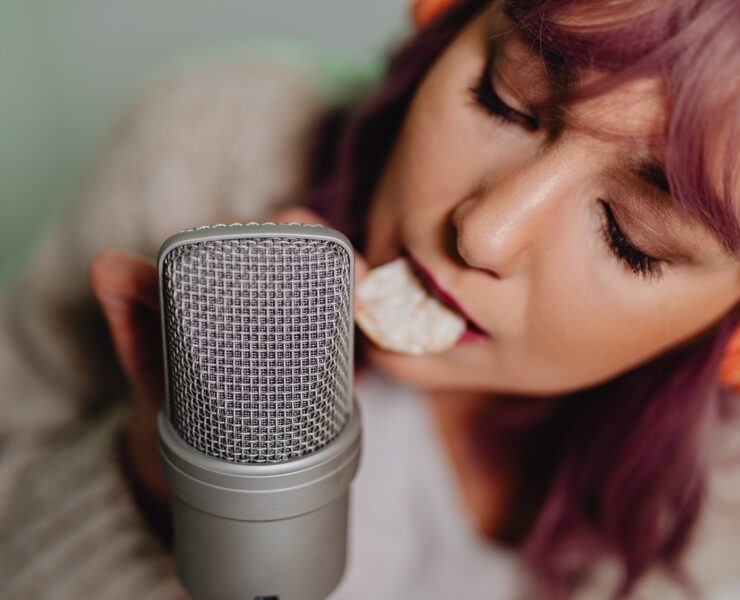 How do YouTubers add sound effects
The answer is pretty straightforward: it is all done in post-production. This is the best way to make them sound and feel professional, and it will be the easier way for you as well.
Some think that because YouTube Audio Library also provides its own SFX, you can add them once the video is uploaded—like cards or subtitles. But it is not the case. Just like it happens with music, sound effects must be added during the editing process.
Doing it is pretty similar to just adding background music to your videos. Probably any editing software out there will allow you to do so. If you are not a video editor, be sure to check our article on how to edit a video before continuing reading.
You will first need to download sound effects. There are many offers out there, but make sure to get high-quality sound effects, as it will help your editing look more professional.
Once you have your SFX, go to the software and import all the media you need: video, music, sound effects, graphics, etc. Add the video to your timeline, and once you find the exact moment where you want to include an effect, place it there.
At HookSounds, sound effects files are short, so you won't be needing to do any extra editing work in that sense!
Where to download YouTube sound effects
If you are looking for sound effects for YouTube videos, we can help you out. Our sound effects are included in all of our subscriptions, so not only you can get some cool SFX, but also use our royalty free music!
To download our sound effects, head over to our SFX library. Browse around using the categories filters to help you out on the search. You will find everything from nature elements, to broadcasting and ambience sounds. You can always get a preview by listening to them!
Choose the one you like and click on the download button. You will get a zip with the audio files in it, which you can just import to the editing software you are using. And voilà! You are all set.
How to identify high-quality sound effects?
Let's start with some specific terms to understand the science behind it. All digital audio is also digital information, which can be high-quality or low-quality. The word "bitrate" (measured in kilobits per second or "kbps"), in digital media, refers to the amount of values (or the amount of data) which can be stored within one second of the audiofile. Simply put: The higher the bitrate, the higher the sound quality.So if you see, for example, an audio file that says "320Kbps" it means that the file contains 320 kilobits stored per second of audio. This value is also proportional to the files size.
How do you know if it's high-quality or low-quality? Well, the more, the better! Usually, the higher the bitrate is, the better the audio quality is going to be since it will contain more information and that means better audio quality.
So if you see, for example, an audio file that says "320Kbps" it means that the file contains 320 kilobits stored per second of audio, that is the amount of data produced.
What bitrate should I be looking for?
Now that we know the basics, we know we should be looking for a high bitrate. But also, when you have high bitrate audio files, you will also have larger file sizes. The selection of the right bitrate depends on the use you will give to the audio file. For example, if your listeners will be downloading it or listening to it in physical audio formats, then a higher bitrate is the best option for you. However, if your listeners will be streaming it, it's recommended a lower bitrate in order to be streamed efficiently.
Keep in mind that when someone hears an audio file that is below 90Kbps, they will notice a drop in the quality of the audio no matter if they are trained or not.
Generally, voice-only podcasts use 96Kbps mono which is a great option and it's still high quality for voice. For podcasts with background music 128 Kbps are recommended. Most streaming music services use 160Kbps while some premium ones, like Spotify, use 320Kbps.
So, all in all, it depends on the project you are working on and on the storage your device has since high bitrate files are larger.
Are Sound Effects Copyrighted?
Yes, all sound effects are copyrighted because, just like music, they have to be created and recorded. To be able to use those recordings, you need legal permission.
Fortunately, so many people are able to use sound effects on their videos, podcasts, or creations because of high-quality royalty-free sound effects sites. They usually own a collection of SFX that the user can choose from and use without having to worry about copyright claims.
How Does HookSounds Make Finding, Downloading and Using Sound Effects Easier?
HookSounds is not only a royalty-free music site, but it also is a royalty-free sound effects site. You can look through our amazing library which contains high-quality, exclusive and realistic sound effects! All sound effects are divided in categories or tags, which makes it a lot easier to find the perfect SFX for your project. Our wide range list of sound effects will help you create a more enriching and compelling story to tell to your audience. Nature sounds like wood creaks or sprinkling water? Don't worry, we have you covered. Office sounds like people talking in the office or writing notes? We have those too!
To get access to any of these incredible sound effects, all you need is to choose your plan and that's it! Then you can easily download any sound effect you like and start using it on your projects. To download our sound effects, you'll first need to select which one you want to download.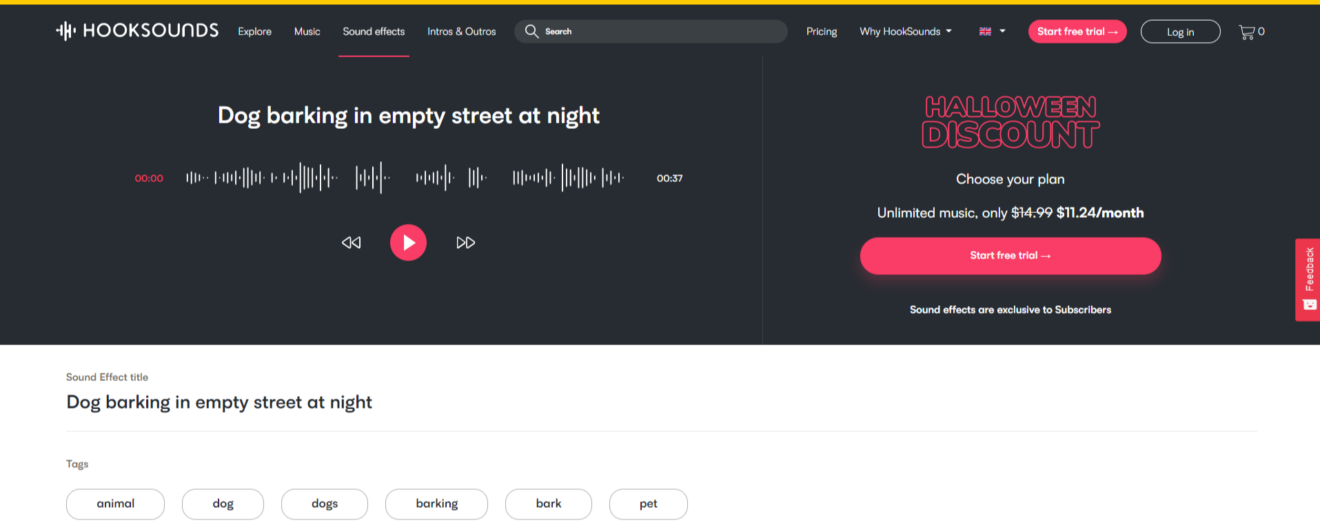 If you have a subscription, then you can click on download. If not, you can check our plans to see which one fits you best. We have a free trial, so you can see if HookSounds is for you before buying anything. Once you have downloaded the sound effect, you go to the Downloads folder.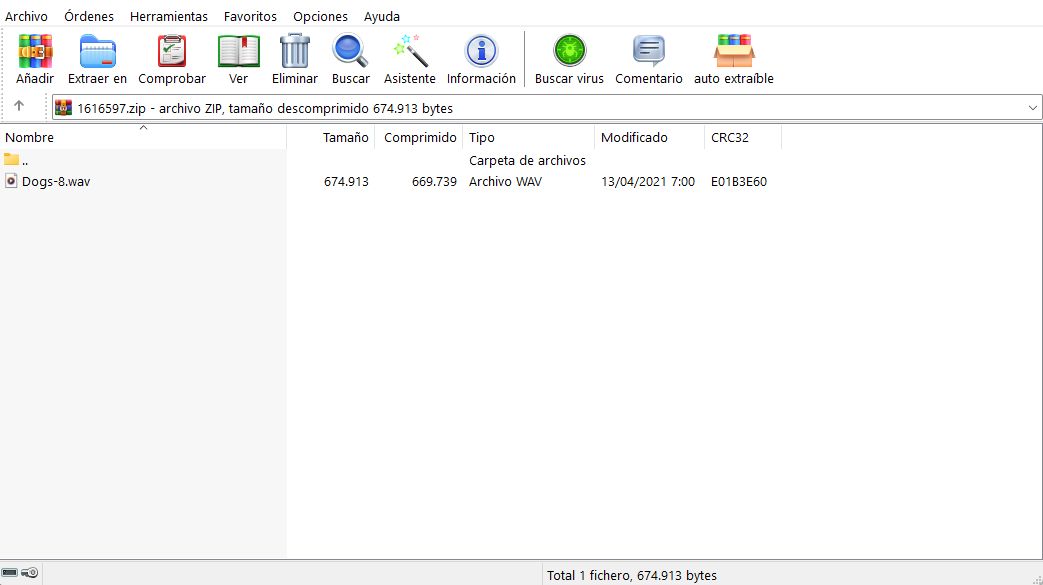 Once you see your file, open the .zip file (you can use WinRAR), extract it, and, voilà! You can start using amazing sound effects on your projects.