In an (internet) world full of podcasts, it is important to set yourself apart with yours. Gaining a listeners' attention right from the beginning is a must, and having a catchy intro will definitely help you to do so. But finding the perfect intro is no easy task. Luckily we got you covered on the music side and here are some tips for you to win the intro game.
Let's start with the basics: What's an intro? Just like in a TV or radio show, podcasts need a small presentation that will be constant, at least during a season. This is an introduction to the show and the episode, in which you state the title and a hint on what it is about. A good intro will grab your audience's attention and encourage them to continue listening. On the contrary, an outro is the bit you will use at the end of the podcast, with a sort of similar structure in terms of using music and a voiceover, but usually detailing the date of the next episode, social media accounts and a "thank you for listening" type of phrase. Think of it as the bow that wraps everything.
The main challenge with podcasts is being able to transmit something only through voice, as obviously contrary to videos, there are no visual images involved, so the tone of your voice along with impactful music will definitely be your allies. Continue reading to learn how to create the ultimate intro:
Find some inspo
If you are unsure about what type of intro to make, some inspiration will always help. A little inspo never hurt anyone, so aside from reading this article, go online and listen to some top podcasts in your genre and analyze the ones you like, trying to find the things that make them outstanding. This can also help you to learn more about hosting a show and checking what kind of trends are around in terms of podcasting.
Finding the music
Probably the most difficult part will be choosing the right royalty free music. As we have told you before, you have to use music without copyright to avoid being banned or demonetized. There are plenty of options—we know—so finding the perfect one can take you a while. All our music is royalty free, meaning that you will be able to use it depending on the type of license you have (if you have any doubts, have a look at our Help Center to find out more).
Music will set the mood, so you have to choose a track that will go with the vibe of your show. If you have a comedic podcast, then using calm music wouldn't make much sense, so your song selection has to be in tune with the theme of your podcast. To do so, start with scrolling around our music library, using the genres and moods menu to help you categorize.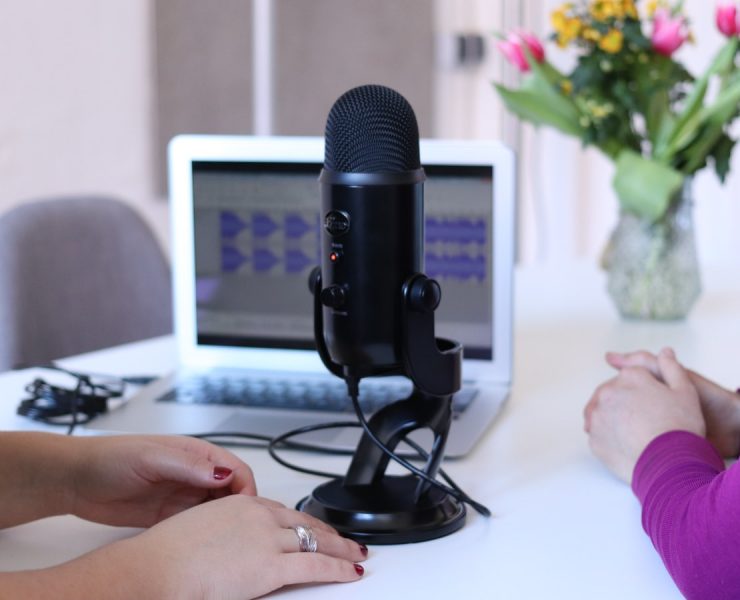 Instruments over voice
As in your intro you will have a voice-over, instrumental music is probably the best choice. Still, if you want to have some vocals in it, we have a few tunes with voices too. Once you have chosen the song, remember that the intro will last just a few seconds, so be sure to edit the song to include the parts that work better for you. Even more, those users with paid licenses and subscriptions can access to tracks with intro/outro cuts already in the downloaded ZIP!
Go for a script
The usual time for an intro or outro is 30 seconds and around 75 words, so you will have to be concise. First, try to summarize what your podcast is about in a sentence, this will be your copy. It is important to give a small preview about the content of the podcast right from the start and, even more, to make it fascinating, so people will stay and listen to the rest.
Some elements you will want to include in your intro are the name of the podcast, the title of the episode, your name, or some tagline related to the podcast. Obviously, not all of them have to be in it, but these can help you out with starting to write the script.
The Voice
Once you've decided on a script for the intro or outro, it is time to start recording. Voice here is key, whether it is yours, a friend's or you hire someone to do it. In general, usually the host is the one that also talks on the intro, but you will also find several podcasts around with intros made by someone else. Most importantly, when recording, be sure to be in a quiet place (of course, the same thing applies to when recording the podcast) as you don't want any unnecessary noise.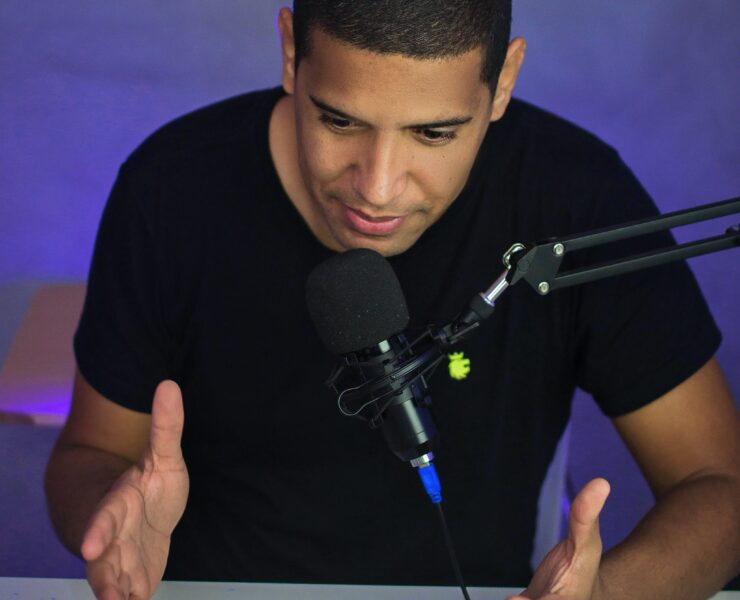 Don't be scared of sound effects
As we stated before, podcasts are a hearing medium, so take advantage of every resource around to make your intro and podcast even bolder. At HookSounds we have over 9000 royalty free sound effects and for sure there is at least one that will work for you. From restaurant background noise to fireworks, our library hosts many cool sound effects for you to choose. Using them will help to illustrate the mood you are trying to create when your show begins or ends.
Time to edit
Once you have all your elements, it is time to put them together. If you are into editing yourself there are many popular and easy softwares you can use such as Audacity, Adobe Audition and Pro Tools. Once you find your perfect editing match, the action starts. Import all the audio files, including the music, sound effects and voice over, and start playing around until you end up with the ultimate intro for your podcast. All of our music comes in WAV and Mp3, as well as in different versions that will help you to make the editing process easier. Of course, there is the option of working with a professional editor, but where's the fun in that? Especially if you are starting, editing yourself will help you save money and help you to learn a new skill, so that is a win-win situation.