Looking for the best video monetization platform to build a scalable video business and generate revenue from your content?
Video monetization isn't a new concept, but it's broader than most know. In this blog post, I'll share what you need to know to monetize your videos. As we'll look at different monetization models, we'll also share the best monetization platforms so you know where to go to get started.
If you like articles like this, check out more on our blog!
What is a Video Monetization Platform?
A video monetization platform enables video content creators to generate revenue from their videos. And you can monetize videos in various ways. Monetization models include:
– Transactional Video-on-Demand
Viewers can purchase and own access to a video in perpetuity, pay per view, or rent it for a limited time. For example, FaderPro is the destination for electronic dance music education. They offer video courses that learners can purchase for a one-time fee with lifetime access.
– Subscription Video-on-Demand
Subscription can include monthly, quarterly, or annual subscription options. These typically give viewers unlimited access to a catalog of videos for as long as they maintain their subscription.
Magic Stream is a magic channel dedicated to teaching aspiring magicians around the world. Members gain access to premium content for as little as $9.99/mo.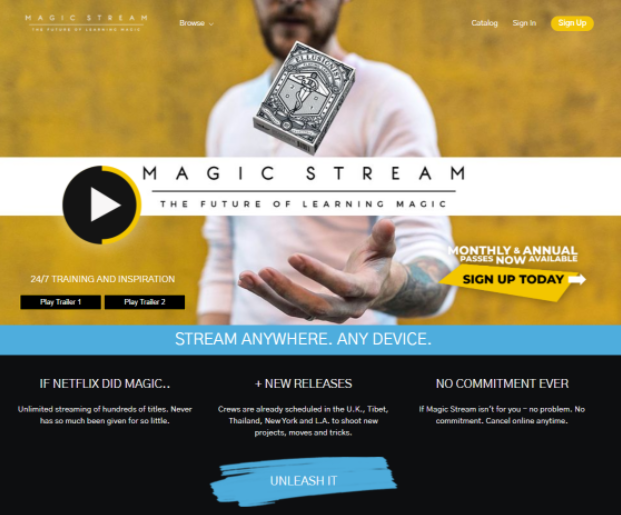 – Advertising Video-on-Demand
Advertising monetization allows video content creators to 'sell viewership' to advertisers. Using strategically timed ads, advertisers pay a fee for access to a pool of viewers who meet their ideal audience demographics. Advertisers use this model to attract viewers and potentially convert them into leads or customers. Ads play before and during video, like this one by an investment company.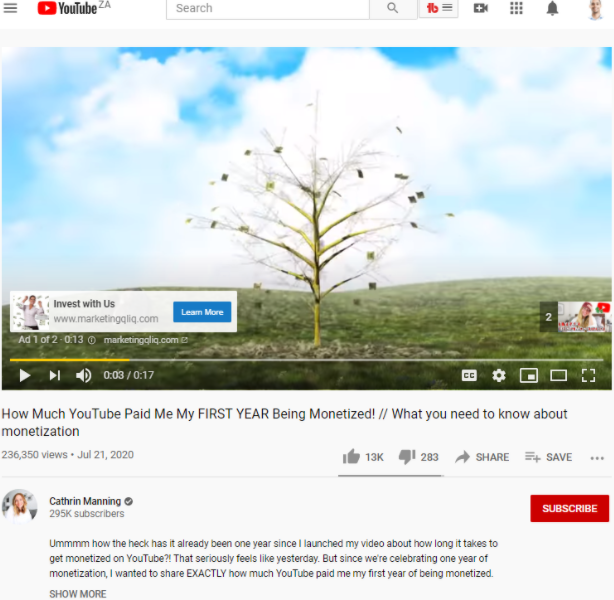 – Hybrid Models
Hybrid models include a combination of either of the above monetization models.
Top Video Monetization Platforms
Monetizing your videos isn't as simple as picking a model, you have to find the right monetization platform. Here's a look at 11 of the best video monetization platforms, you'll see that each offers a unique take on how you can make money from your videos. Basically, to find the right platform, pay attention to how each platform supports monetization.
1. Uscreen

Uscreen is an all-in-one video monetization and OTT platform. It offers video content creators something unique. It gives them complete ownership and the chance to create and launch a standalone video membership site.
And that's a big deal. Platforms like YouTube and Facebook often update algorithms and monetization policies. Complete ownership means you never have to worry about either.
You get a website builder that's designed to make building a website easy and fun. And it's perfect for everyone because you don't need coding knowledge to use it.
You also retain customer information. Why does this matter?
Not all video monetization platforms are created equally. For example, YouTube will let you build a large fan base, but won't give you access to contact details for marketing. Savvy marketers know that owning an email address means you never have to pay for that lead again. But because these platforms don't offer customer details, you'll never be able to maximize your marketing and will spend more money over time.
Uscreen also offers marketing and engagement tools, and integrated payment gateways. These help you connect with members and accept payments without writing a line of code.
You get to use TVod, SVoD, or Hybrid monetization models so you can create a variety of video content and position it for broader audiences.
Uscreen's made it easy to take your video content to the masses. Using branded apps, your audience can stream recorded content to TVs, computers, tablets, or smartphones. And if you've seen live streaming statistics today, you know how important it is to be able to broadcast in real-time. Uscreen offers live streaming and can broadcast to all devices.
Other valuable Uscreen features include:
Complete video monetization platform

A Customizable video player

Advanced analytics to track and measure video performance

Marketing & community-building tools

Powerful security to protect your content and viewers

A video content management system to easily arrange your videos

Brandable video streaming apps for mobile and TV devices
2. CONTUS VPlayed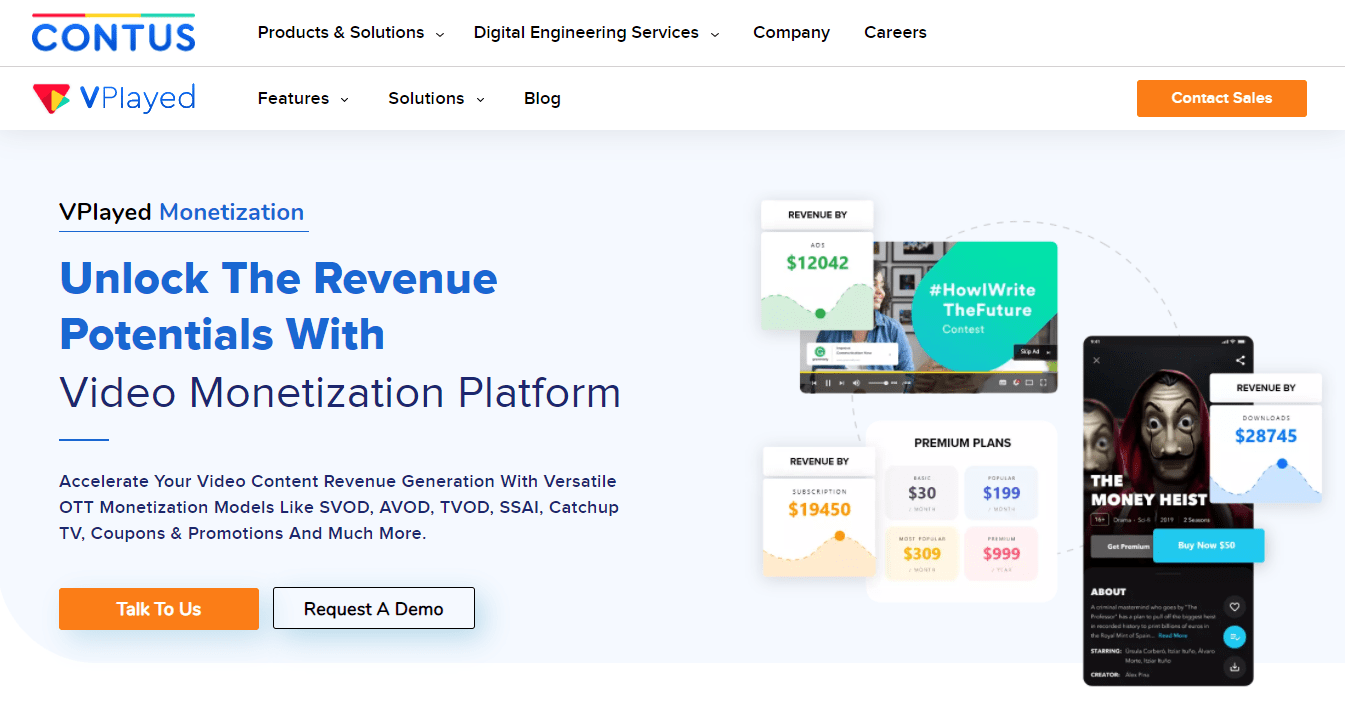 VPlayed's video monetization platform helps business owners to upscale their business profitability by delivering video on demand or live streaming services. It becomes highly likely for media broadcasters, top educators, movie makers, fitness enthusiasts, religious leaders to broadcast their own concurrent streams across multiple devices & platforms irrespective of location & time.
Content owners or digital streamers can leverage powered 6+ monetization models along with 150+ comprehensive features. VPlayed lets you gate your premium streaming content that is owned by you in exchange for lump sum profitshare through paywall feature.
Some of its added monetization features include:
World-class streaming potentialities for video apps

Live to VOD add-on for shaping content assets

Administered ads from your content partner portal

3rd Party add-on integration for better capital intake

Coupons & Promotions can enable seasonal benefits

Instream ads, subscription & pay-per-view are best takeaways
3. VlogBox
VlogBox is a video monetization platform and digital marketing agency that offers a one-stop-shop solution for those new to the CTV market as well as pros looking to scale their business.
VlogBox has created a whole ecosystem for content owners that includes a full-cycle CTV advertising agency as well as a standalone monetization technology with a connection to a broad network of demand partners. The technology is used by more than 1,000 channels on top CTV platforms like Roku, Amazon Fire TV, Apple TV and Android TV allowing their owners to increase their performance.
Depending on client needs, VlogBox offers a broad choice of options, ranging from simply developing a channel to managing and promoting a fully custom-built app to take full advantage of the monetization platform.
VlogBox key features include:
Easy integration processes and cross-device marketing capabilities
Complete control over video content monetization
Connection to a broad network of trustworthy demand sources
Personalized approach and full channel management and reporting
Reporting and analytics that provide detailed and timely insights into viewer engagement across devices and apps
Flexible pricing options from pure channel development, to its customization and management
4. Patreon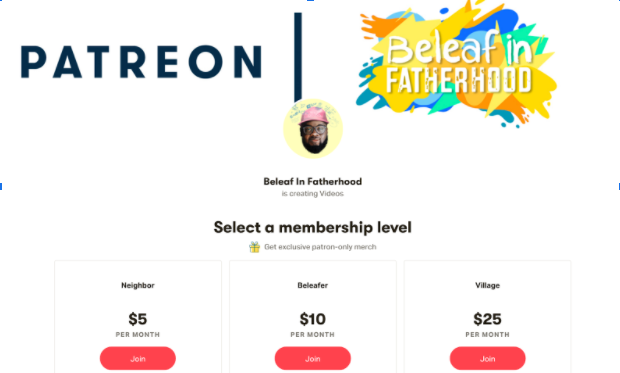 Patreon is a great platform for creating membership-based content, where you also have access to client information to boost your email marketing. You can monetize content by offering members tiers, with each offering more value as pricing increases.
While easy to use for video creators, it can be a little tough to navigate for users. Content is listed in a feed, similar to your Facebook account. This means lots of scrolling to find content — something that's never fun or easy to do.
Patreon also houses all of your content on its domain, which limits your branding opportunities and control over the platform.
Other valuable Patreon features include:
Mobile app

Business tools to track payment and lifetime value of members

Messaging tools to engage patreons
4. YouTube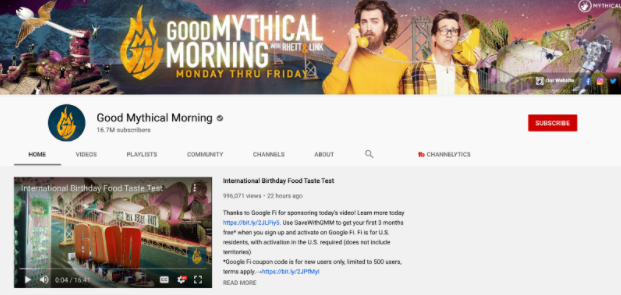 YouTube is often the first platform new video creators turn to. You can monetize video through ads and get a cut of the ad revenue (55% for creators), channel memberships, and through SuperChat, a way for viewers to support creators through donations during live streams.
While you can build a large community of subscribers, you can't access contact details for marketing opportunities. YouTube also tweaks algorithms and revenue-sharing policies regularly. Your videos could go from ranking well to nowhere, and your earning potential can diminish overnight.
Video analytics and revenue calculations can be tracked through YouTube's Creator Studio.
5. Facebook
Facebook began offering the option of ad-based video monetization much later than YouTube, but it's caught on. You receive up to 55% of all revenue for ads that run when your videos play.
Like YouTube, you can grow a large following on Facebook, but this video monetization platform is also subject to regular algorithm updates. Organic content has become harder to rank, and feeds are busy, making it harder to reach larger viewership numbers.
Facebook offers insights on videos, which are viewable through the Insights dashboard.
6. IGTV
There are two ways to monetize Instagram using IGTV. The first is through ads, which, like Facebook, play during your videos and you make up to 55% of ad revenue. The second is based on live streaming content where viewers purchase and receive badges that appear alongside their profile images for the duration of the live stream.
IGTV is a Facebook product, and like Facebook, you're contending with the same regular algorithm update challenges.
IGTV video analytics can be found by using the three dots in the top right-hand corner of the app.
7. Twitch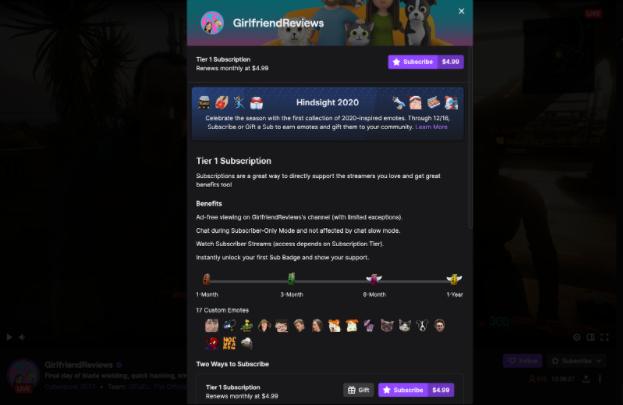 Twitch has transformed into more than just an online gaming platform. In the last two years, Just Chatting has become a breakout category as more viewers spend time directly interacting with Twitch Streamers.
Twitch has more monetization options than most platforms on our list. These include:
Subscriptions (aka Subs)

Gifted Subs

Emotes

Donations

Ads
While a growing platform, Twitch is like Facebook, YouTube, and IGTV. They limit access to view contact information, and much of what happens on the platform is governed by Twitch policies.
Twitch also offers a dashboard where streamers can track analytics.
8. Thinkific

Thinkific is an online learning platform that offers creators more than just the option of selling online courses. There, you can monetize videos in three ways:
Third-party advertising – play ads while your videos run

Premium content – sell your videos to learners

Monetizing your fanbase – allow YouTube and Facebook to serve ads to your audience
Thinkific is a powerful platform for educators and is built for sharing knowledge. While these options are appealing, they're best aligned with creators building online courses.
Thinkific offers a dashboard for tracking analytics on all facets of its platform, including video performance.
9. Wistia
Wistia is a video-on-demand platform. Like Uscreen, they offer subscriptions, advertisement, and one-off monetization methods. Wistia also can easily be integrated with membership tools such as MemberMouse.
Wistia also offers a page builder, it's not as robust as a website builder, but can help you create a personalized look and feel for your brand.
Other Wistia features include:
Interactive video tools to create calls to action, annotation links, and email gates

A customizable video player

Embed video player URLs anywhere

Advanced analytics to track video performance
10. Vimeo
Vimeo is another video-on-demand platform. Like Uscreen and Wistia, it offers monetization through subscriptions and pay-per-view. You can also monetize live streams on their higher plans.
While a large brand with an attractive $1 basic plan, pricing starts to grow as your needs for important features like live streaming and broadcasting to OTT apps, both of which are only available on the Enterprise plan.
Other Vimeo features include:
A customizable video player

Embed video player URLs anywhere or use shareable pages

Advanced analytics to track video performance
Choose wisely
Video monetization platforms are a gateway to a new revenue stream for creators, but as you plan your route, be sure to pick a model and platform that agree with you. You need to find a platform that fits your needs and one that allows you the flexibility to scale, without huge costs or limitations that directly influence your earning potential. Platform that allows you to not only monetize your content but also market and grow a sustainable business.
*Amir Shahzeidi is the digital marketing manager at Uscreen, an all-in-one video monetization and OTT platform provider that empowers video entrepreneurs and creators to monetize their content and build thriving businesses around their videos.