Affiliate marketing is one of the most used tools of online marketing. Amazon, the popular international trading platform, has laid the foundation for a marketing model that is used globally. The initial idea was to market their own products on web pages with the appropriate theme and pay a small commission to the operator each time they hire a client. This simple model has resulted, almost 20 years later, in a powerful marketing tool that should be an essential component of any online marketing mix.
Affiliate Marketing Definition
Affiliate marketing is, by definition, a marketing model based on sales and billing that follows the principle of commission through mediation, in which 2 components come into play, the merchant and the affiliate. In other words, it is usually an agreement between a company and a person (could be a content creator, another brand, etc) to promote a service or product by giving commission. Think of it as the modern-day edition of sales through catalogs.
It is a popular tactic to drive sales and generate online revenue for both parties. It is clearly very beneficial to both brands and affiliates, as it is a win-win situation: little investment from either and possible earnings for both.
For content creators, affiliate marketing is a great way to make some extra money without a lot of effort. Simply by adding a link or a banner or a brief mention, a creator will be promoting the product or service and hopefully bringing traffic, clicks or sales.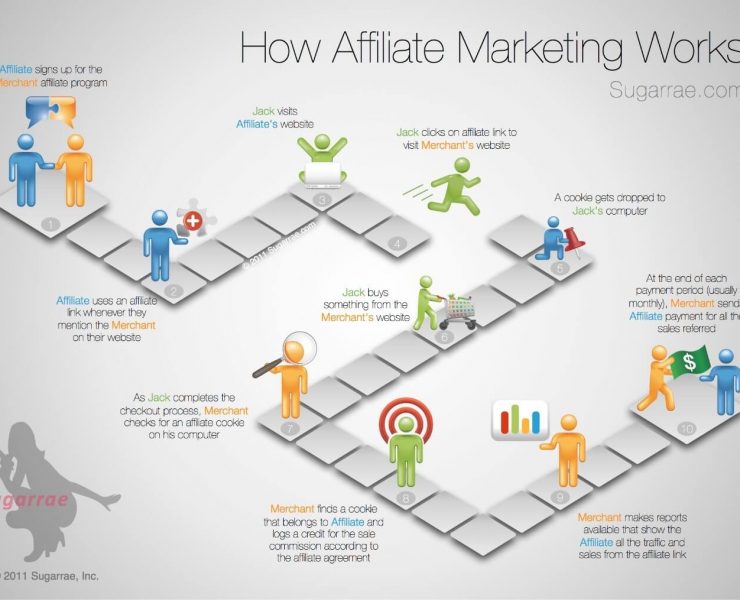 How Much Do Affiliate Marketers Make?
The amount of money you can earn as an affiliate depends on many factors. Firstly, type of agreement that is made. Some companies pay through bank transfers, while others pay with products or services.
A second important factor is the percentage agreed. If the affiliate gets paid with money, then there needs to be a commission agreed beforehand and, again, it really depends on the type of company, the affiliate and its abilities to negotiate and more. If you are a content creator with thousands of followers or a website with a lot of traffic, you will have a lot of room to negotiate the amount of commission you will get.
Another thing to keep in mind is the goal that you must meet through transactions. Goals can be such as increasing company sales, increased traffic, conversions, visits to your website, etc.
It is very important to be clear about this from the affiliate's point of view, as this will determine the direction of your efforts, strategy, and commission. It's often much easier to drive traffic or generate clicks rather than drive increased sales, so it's good to be clear.
Finally, get things straight regarding payments. What are you going to get in return, when and how is crucial to determine how much money you will make.
Affiliate Marketing Examples
Pay per Sale
This is the most common type of affiliate marketing. Here the company pays the affiliate a percentage of the sale price of the product after the consumer purchases it. For this, the consumer needs to come directly from the affiliate, whether it is by clicking on a link, a banner or through recommendation.
This is something that Amazon does quite a lot by partnering with websites that show reviews, influencers and more.
Pay per Lead
This system compensates the affiliate based on the conversion of leads. Here the affiliate must encourage consumers to visit the company's website and complete the desired action: filling out a contact form, signing up for a trial of a product or subscribing to a newsletter, among others.
Pay per click
This program focuses on incentivizing the affiliate to redirect consumers from their marketing platform to the merchant's website. In this scenario, the affiliate is paid based on the increase in web traffic.

Affiliate Marketing Platforms
There are many affiliate marketing platforms that connect companies with potential affiliates. Our top 3 recommended sites are the following:
HookSounds Affiliate Program
We're very proud of our affiliate program. We have gathered a community of content creators and niche websites that help us spread the word to everyone about our royalty free music library and sound effects collection And you can also be a part of it!
If you have a YouTube channel, a social media account or a website, you can fill out the form on our affiliates page and our team will review your profile. Once approved you will get full access to our library to use on your content and commissions per sales made! We are one of the few services that *actually* pays in cash via money transfer, so start making 'em bucks.
Your followers will also enjoy some benefits too. As an affiliate, you will have a special discount code to make things easier for them – and you will be earning per sale.
As a HookSounds affiliate you will be able to enjoy the following benefits:
Potential to earn significant earnings with minimum investment
Get 30% on commissions from each sale!
Receive payments promptly and efficiently via PayPal or Payoneer
Personalized dashboard where you can track your earnings
Full access to our entire library, including premium tracks and sound effects!
Monthly follow-ups with the Affiliates Manager