Video editors are such an important part of a content creators' world. We know that it can be a difficult task to have to choose just one of the many amazing video editors out there. In this article, we will talk about top-notch video editors and the benefits of each one.
Why Are Video Editors Programs Important?
Whether you are making a film, a YouTube video, or an Instagram reel, you need to understand that video editing is a crucial part of producing remarkable content. If you want to stand out, you'll need to have a remarkable finished product. And even if you hire the best editor out there, they will also need the best tools to work with.
Mixing videos and audio when it comes to conveying a message is a powerful tool. The way you mix the audiovisual content is what will keep your audience engaged, and It's no easy task. Video editing requires skill and creativity. And of course, an astonishing video editing program.
How to Choose the Best Video Editor?
With so many options, you might be wondering "which video editor is the best for me?" In order to choose a video editor, you'll need to keep a few things in mind:
Your budget and how much you want to spend on a video editor.

Ease of use: do you have experience editing? If you don't, you might want to consider how easy it's to learn to use the software.

Video format support: this is also another important thing to keep in mind. You'll have to make sure the video editing software can edit the video filmed from your camera.

Special effects, music, and other perks: if you want your video to have special effects and music, you'll have to find out if your video editor has these perks. If your editor doesn't have music, consider HookSounds! We have the best royalty-free music and sound effects for your projects!

Customer support: you might never need to use customer support, but always check if the company has support services like live chat, FAQ, help center, phone support, forum community, etc.
Not everyone is looking for the same type of video editor: filmmakers might want a more professional software, whereas companies might want something more simple. Others might want to make videos in minutes, and others might need some additional time to craft their projects.
At HookSounds we want to make this search easy on you. That's why we've picked a few of the best video editors out there:

Extremely popular video editing software by Adobe and is one of the most professional video editing softwares out there. Its interface can be a bit intimidating, but there are tons of tutorials and user guides to learn. It's available both for Windows and Mac, so that's a plus!
This editor supports a wide variety of file formats like .AVI, .MOV, .MP4, .WAV and .WMV. You can check on their website the full list of supported file formats. Adobe Premiere Pro lets you add titles, transitions and effects, edit colors, edit audio, change duration and speed and export your project as a media file or share it to social media.
Regarding the prices, Premiere Pro has a 7-day free trial, prior to a monthly subscription:
$31.49/mo if paid monthly

$20.99/mo if paid annually

$239.88/yr if pre-paid
Videobolt is an online video maker that offers a solution to anyone who needs quick, high-quality, attractive videos. Videobolt features a wide variety of video projects and templates that are completely customizable. You'll find more than 3000 video templates that are designed by professionals. It's really easy to use, and you don't need great video editing skills in order to create a video.
There are templates covering various categories of videos like stylish intros, bouncy music visualizers, lyric videos, slick slideshows, captivating stomp ads and more. Many templates also come in different formats to be ready for use across social media (like Instagram, Facebook, Twitter, YouTube).
Videobolt allows you to have a video ready in a few minutes, this is the perfect tool for people working in marketing and social media. Besides, there's an extensive picture and video stock collection that you can use for your videos. If you want to create a video for your brand, you can even upload your own font! With Videobolt, you don't need to worry about copyright since all produced videos include licenses for commercial use.
The Videobolt team is always handy! You'll find a help center and a 'contact us' page where you can find an answer for every question. If you still have remaining doubts, the guys at live chat are always ready to answer.
VideoScribe is a software made to create animated videos the easy way. There are two versions of VideoScribe, the online version comes in handy if you are on-the-go, but their software version is the real deal.
VideoScribe offers premade, high-quality, customizable templates to include in your project. This video animation software features more than 11,000 custom illustrations which you can add to your videos. You can also add GIFs! Isn't that incredible? Besides that, you can record voice-over and add royalty-free music from their collection.
VideoScribe is perfect for educators, marketers, corporate business videos, agencies and, content creators. You don't need skills on animation, video editing or design to start making your own videos! If you have any unanswered questions, VideoScribe has an extensive help center including tips, tutorials, phone support and contact page to raise a ticket.
Regarding the prices, it has different types of subscriptions:
Monthly plan: $39/mo
Annual plan: $14/mo (you'll save 64% over a monthly plan)
Team plans: this is a custom plan priced directly to your needs
On the other hand, Videoscribe includes a 7-day free trial to access every feature. However, videos will appear with a watermark during the trial week.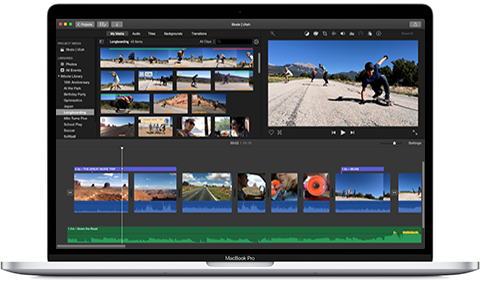 This is a remarkable option for Apple users, and it's free! It has a desktop version and an iPhone version in case you want to create videos on your phone. Its simple interface makes it super easy to understand its mechanics. However, those who are looking for something more professional, might not find iMovie as complete as other video editors.
The video editor allows you to add transitions, titles, music, green screen, etc. However, iMovie may lack some advanced effects and the con is that you can not add plug-ins to this software. A great thing about iMovie is that it's really easy to share your content: you can share your file through AirDrop to a nearby device, or you can export it, or share it in social media. You can even transfer it to Final Cut Pro, a more advanced editing software.
All in all, this is a free option that could be useful to beginners. It lacks some professional tools which can limit their users but if you are just starting editing, and you don't have much budget, this is your option!
We know how countless video editors exist, and we just can't list all of them here. However, we have decided to briefly talk about the most notorious ones. Other options exist:
DaVinci Resolve: This is a free video editing software for those who are looking for a more advanced video editor. It has professional tools and features. It might not be the easiest to learn, but it's an incredible option.
CyberLink PowerDirector: This is a fast, full-featured, consumer-level, and honestly a great video editing program. It's quite easy to use, and it's available for Mac and Windows. The interface can be a bit too overwhelming since it has too many options, but it's worth learning. CyberLink offers a free trial and the prices from 19,99 USD/mo.
Corel VideoStudio Ultimate: This is very easy and fun to use video editing software. It is fantastic for beginners, but not so much for professionals. Corel currently costs 79,99 USD including a free-trial!
Canva: It offers a video platform to make high-quality videos. You won't be needing video editing skills since it's extremely friendly. You can choose from templates to create your video, which is perfect for those who want to make quick and easy content.
We hope this article helped you select one of the many video editors out there. We always recommend you to keep in mind what type of video you want to create (whether film, documentary, etc.) and adjust your budget accordingly.