Podcasts have been around for a while now, but they have never been more popular than they are today. This is mainly because of the fact that podcasts allow you to listen to them at any time, which makes it super convenient for people who don't have time for TV or radio.
So many content creators are now podcasting and if you are interested in learning how to upload a podcast, then you should keep reading!
Where to Upload Podcasts?
Podcasts are a great way to share your knowledge and expertise with the world. It is a fantastic medium of communication that can help you build an audience and establish yourself as an expert in your field. You have recorded your podcast, added a great intro to it (if not, check this article out!), uploaded it to a host, and now what? Where to publish your podcast?
The answer is not as simple as you may think. Podcast publishing is not complicated, but there are several platforms where you can upload podcasts, from Spotify to YouTube. It might be tempting to try to get your podcast listed on as many platforms as you can, since reaching more people is the goal here. But, this is a hard task that can overwhelm you. That's why we have listed a few important platforms that you can focus on:
Apple Podcasts

Spotify

Google Podcasts

Stitcher

Amazon Music and Audible

TuneIn

Podchaser

iHeartRadio

– What's the Best Place to Publish a Podcast?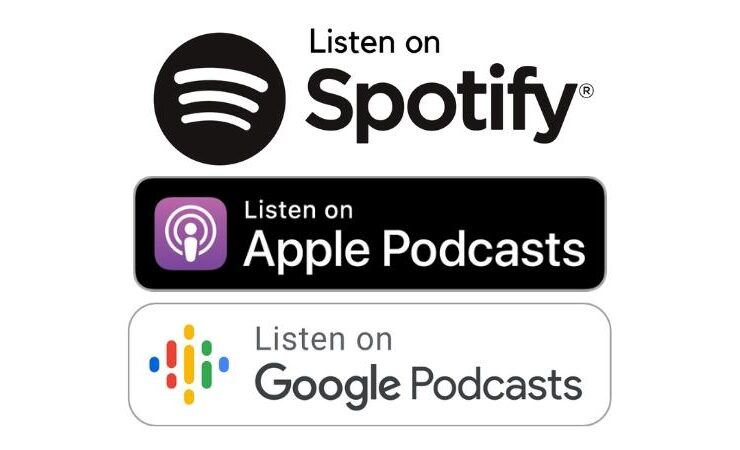 The best place to publish a podcast depends on your audience and the type of content you are publishing. So you might want to do a bit of research here.
Apple Podcasts is the most popular one and has the largest audience. Spotify has lots of listeners as well, but they have fewer podcasts than Apple Podcasts. There's also Stitcher, which is a great option and has lots of podcasts, but their listenership is not as big as Apple's or Spotify's. So, to answer this question, it really depends on your podcast and what you're looking for.
How to Upload a Podcast on Spotify
Spotify is a popular music and podcast streaming service, but it doesn't host Podcasts, so you need to submit a link to an RSS feed in order to appear on their platform. However, if you host your podcast with one of Spotify's partner sites, you can easily upload it to Spotify. This is how you upload your podcast to Spotify:
Log in to Spotify for Podcasters with your Spotify account.

Click on GET STARTED.

Paste the link to your podcast's RSS feed.

Add your podcast info.

Click on Submit.
We recommend you to watch this video to get a better understanding of the site!
How to Upload a Podcast on Apple Podcasts
So, we've talked about how big Apple Podcasts is and how you should prioritize this site. It has so many listeners that you should really think about listing your podcast here. In order to publish your podcast on Apple Podcasts, follow these steps:
Create an Apple ID in order to log in to iTunes.

Log in to

Apple Podcasts Connect

to set up your account.

After you've created your account, select the "+" icon to add your podcast's RSS feed to Apple. Your podcast may take 24-48 hours to be approved, since Apple reviews each podcast manually.
How to Upload a Podcast on Google Podcasts
Google Podcasts is another option to have in mind. Of course, Apple Podcasts takes care of Apple Users, but Android phone owners might choose Google Podcasts for podcast content. Make sure to meet all Google's requirements in order to appear on Google Podcasts. This is how you submit your podcast to this platform:
Copy your podcasts RSS feed.

Paste the link to

Google Podcasts Manager.

You'll receive a verification code from Google in order to verify your submission. That's it!
How Often Should You Publish a Podcast?
Podcasts are typically published on a weekly basis, but some podcasts publish more than once per week. The number of times you publish a podcast will depend on your audience and what they're looking for. For example, if you are publishing a podcast about current events, then it would make sense to publish your episodes more often because there will be fresh content. So it really depends, but one podcast per week is more than enough!
What's the Best Time to Publish a Podcast?
The best time to publish a podcast is when you have the most listeners, which is usually during morning hours (8-12 am) or early evening hours (4-6 pm). This is when people are most likely to be at their desk, and they can listen while they work.
The best day of the week to publish a podcast is on Fridays or Mondays. Friday mornings are often slow because most people have already planned what they will do that weekend, so a podcast is ideal here. Mondays are also good because people need motivation after a long weekend, and listening to your favorite podcast is a great way to start the week.
Where to Find Royalty Free Music for a Podcast?
One of the main elements of a podcast is music, and it's easy to understand why: podcasts are an audio-only format, meaning the listeners can't see the appearance and facial expressions, or graphics. This forces content creators to rely on a full audio experience, and there is no tool like music to evoke feelings and engage the audience.
So, music is a key element for podcasts. It entertains the audience and sets the mood for the entire podcast. Consider using high-quality and exclusive royalty free music, sound effects and intros, so you don't have any copyright issues. We've created this Podcast Collection to save you some time, so you can quickly browse through this selection of royalty free music, sound effects and intros to add to your podcast.